A better way to
book appointments
Add online booking to your website and provide your customers with a seamless booking experience. Streamline your business and save time.
"You can't control time but you can manage it"
Completely automatic
Online booking system
Looking for an efficient online booking system? Timedule is exactly what you need. We offer a flexible and simple solution that makes booking smooth for both you and your clients.
Use our platform to manage bookings, schedules, and customer information from one platform. Start today and take your business to a new level with the timedule online booking system.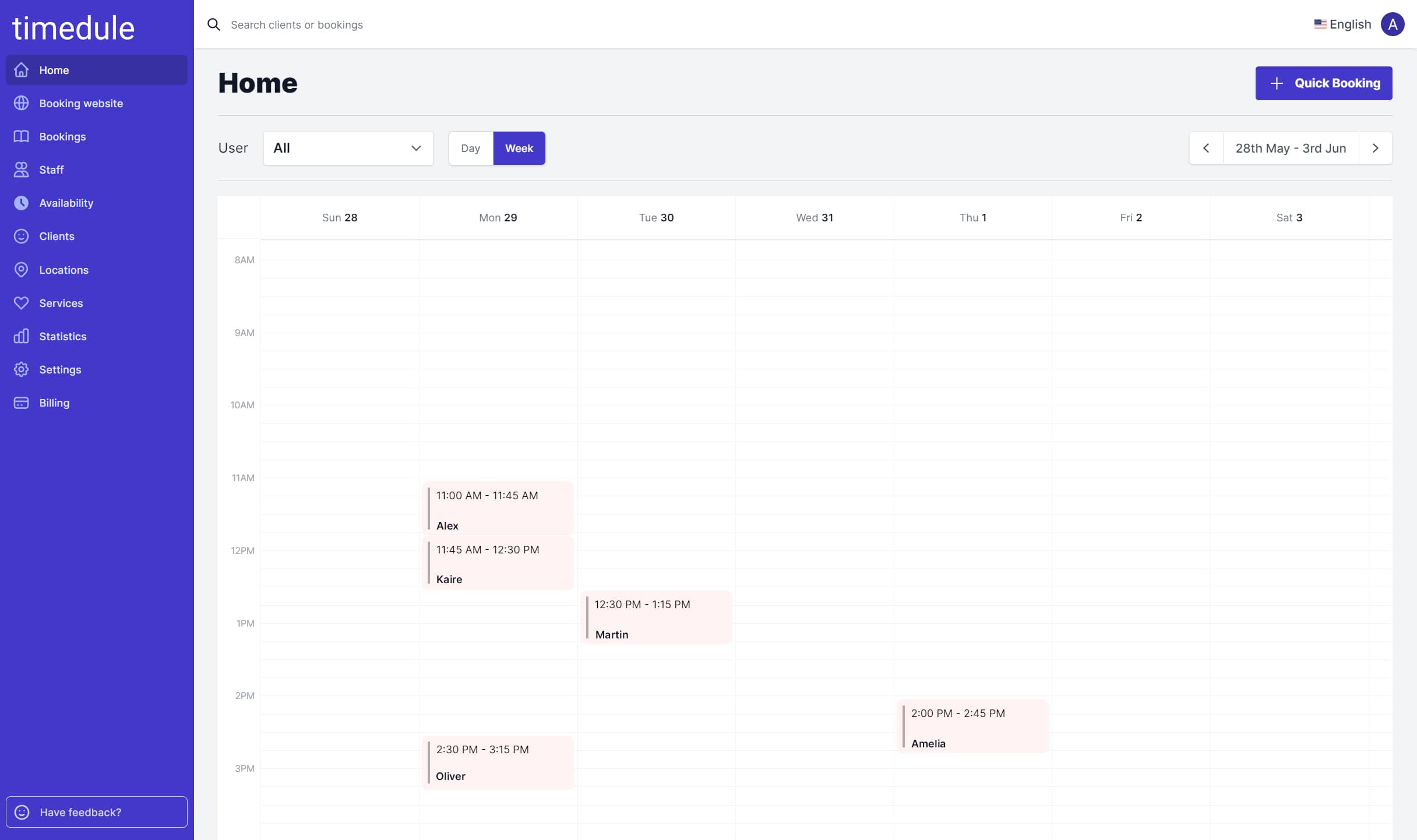 A better way to manage bookings
Our software has everything needed to help your customers buy your services while helping you run and scale your business further.
Online booking

A flexible booking system saves time. Simply add a booking link, and everyone saves time - you and your customers.

Keep track of your bookings

Now it's even easier to manage your reservations. Our booking software ensures you don't lose a happy customer.

Reminders

A simple and reliable scheduling system ensures that all of your clients will show up.

Statistics

timedule offers advanced analytics so you can learn more about your customers and your business.

Mobile app

COMING SOON

With timedule mobile app and website, you can access your appointments from anywhere, on any of your devices.

Customization

You can customize everything! You can start off with your booking's reminder text and go all the way up to how your booking page looks.
Online Booking
timedule helps you make your operations more efficient by managing your appointments, scheduling, and customer information from a single platform. It allows you to connect with your clients seamlessly and book appointments 24/7.
Easy to use

Get started in 5 minutes with a simple and intuitive solution.

Best value

No hidden costs or overcharges for you or your business.

Time saving

Save time and money by using our solution.
Always in the loop
Our booking software gives you more time to focus on the things that matter most — your customers and your business. With our online booking system, you will always have an up-to-date overview of bookings and the ability to respond quickly to changes.
Always there for you

Get fast support suited for your needs, whenever and as much you need it.

Save time, save money

The easy way to manage appointments and customers in your business.

Avoid missed appointments

You're busy. With timedule, you can rest easy knowing that the booking process is handled for you.
Loved by businesses worldwide.
Our product saves hundreds of hours for both large and small businesses.

"I own a nail salon and my customers are always thanking for how easy it is to book time with us, thanks to timedule."
"My company has seen a significant increase in test drive bookings since we started using timedule"
Ready to dive in?
Start your free trial today.
Try our online booking software, and see how easy it is to manage your appointments.
No credit card required
Sign up for free